Gigi was born in Brooklyn, New York in the United States. She chose her name herself since it was hard for her to say her birth name, and this independent streak continued throughout her life.
After two years near Washington, DC as her father completed his Army service, the family settled in the city of Englewood in the northern part of New Jersey.
Gigi was the third daughter in a family of four daughters. Her mother Joyce was a social worker and her father Leroy was a doctor; together they created a warm and loving home for the girls. Attending the city schools, a bat mitzvah trip to Israel and a summer at Kibbutz Gazit helped to form Gigi's Jewish identity. After completing high school Gigi went on to study psychology and literature at Cornell University, and even spent one semester studying in Jerusalem. During her studies Gigi's humanistic and pioneering nature found a home when she joined Reform Movement's Arava Garin. She was aided by her Hebrew studies and the guidance of Sandy Bem, a mentor for Gigi, who babysat her children from time to time.
When Gigi was a child she once asked her father if she could live on a farm, and received the reply "Jews don't do that!" Immigrating to Israel was just a matter of time, especially when she realized that she could live on a farm on which everyone is equal to the other and work together – in short, a kibbutz.
In 1987 Gigi made aliyah from New Jersey to Kibbutz Lotan. She worked on the kibbutz as a children's caregiver, as a maintenance woman and in the dairy farm, and finally as the kibbutz treasurer. During all those years there was always at least one dog following in her wake. In between jobs she gave birth to Yael and married Ofer. 
She came to Kibbutz Samar in 1997 and returned to her childhood love, working in the dairy. Following the birth of her children Yotam and Avshalom she worked as a comptroller and then continued on to kibbutz management. At the same time Gigi fulfilled various positions at the Dead Sea and Arava Science Center, where she handled research proposals, as well as working at the Hevel Eilot regional financial organization (Ardom). During this time, she studied for a master's degree in economics. She studied the dairy farms, collecting data from the farms, and helped to improve their efficiency through knowledge sharing.
Gigi's last job was that of the director of the Southern Arava Research and Development Station. As director she worked on enhancing applied research in the main agricultural fields of the region, including date orchards and field crops.
---
Options for Contribution to the Scholarship fund
Donation of a  10,000 NIS  scholarship 
Donation of a multi-year scholarship – the donor commits to funding a scholarship for a number of years in advance
Donation to cover a year's activity of the fund – ILS 30,000-50,000
Any other amount.
Each year the names of the donors will be mentioned at the ceremony for awarding the scholarships, to which the donors will be invited. Their names will appear on the Fund's website and will be mentioned in all fund publications for that year.
In the case of donation of a scholarship, this will be noted when the scholarship is awarded.
The donors will be given a report summarizing the fund's activities including the scholarship committee's reasons for the selection of the scholarship recipients.
To view the public tender 2022,  click ==> here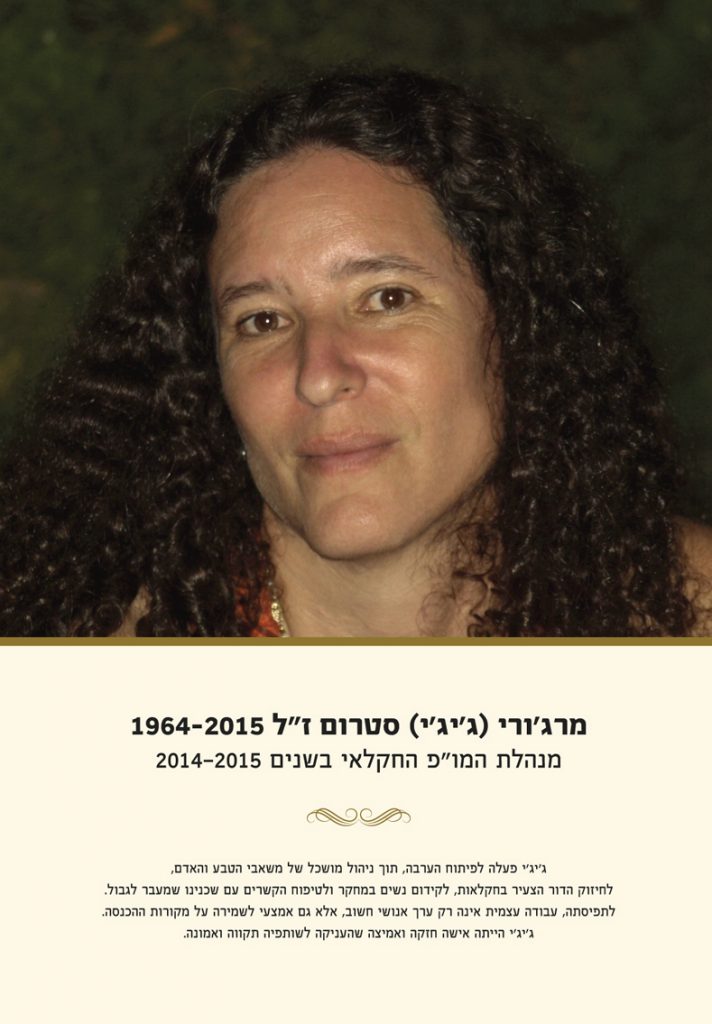 applied for a scholarship: